---
What Are We Made Of?
Location: São Paulo, Brazil
Date published: 2023-09-22
Date modified: 2023-09-22
Reading time: 00:01:05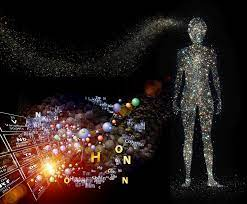 "We are stardust."
Carl Sagan
In that famous 1975 debate with Ashley Montagu and a host of other scientists, when Carl Sagan said that we are made of stardust, the scientist's charm, charisma, and intelligence, led us to believe that he was simply being romantic.
The truth is that we are literally stardust.
In quantum mechanics, this dust we call matter is divided into two types of particles: quarks and hadrons.
Quarks combine to form protons, neutrons, and a hundred other high-energy particles that have only been detected in laboratories.
Hadrons are everything that is not a quark. Electrons, neutrinos, and high-energy particles that are called leptons. What do leptons and quarks have in common? A single characteristic: both have ½ spin, which guarantees their participation in the Pauli exclusion principle.
To make things even more complicated, both quarks and leptons fall into the category of fermions. This is because they have the same spin. Fermions can appear as two heavier versions of the electron, the muon, and the tauon. These are associated with two types of neutrinos and four quarks: top, bottom, strange, and charm.
All this while respecting the Pauli exclusion.
In the next article, particles that respect the Fermi exclusion.
After that, we will see what this means.
Recent Presscenter Articles
---
Planck E - Books
---
For further information about Planck E PressCenter, please contact us.