---
ECO/Carbon Market Report #16/2022
Location: Amsterdam, Netherlands
Date published: 2022-12-13
Date modified: 2022-12-13
Reading time: 00:01:13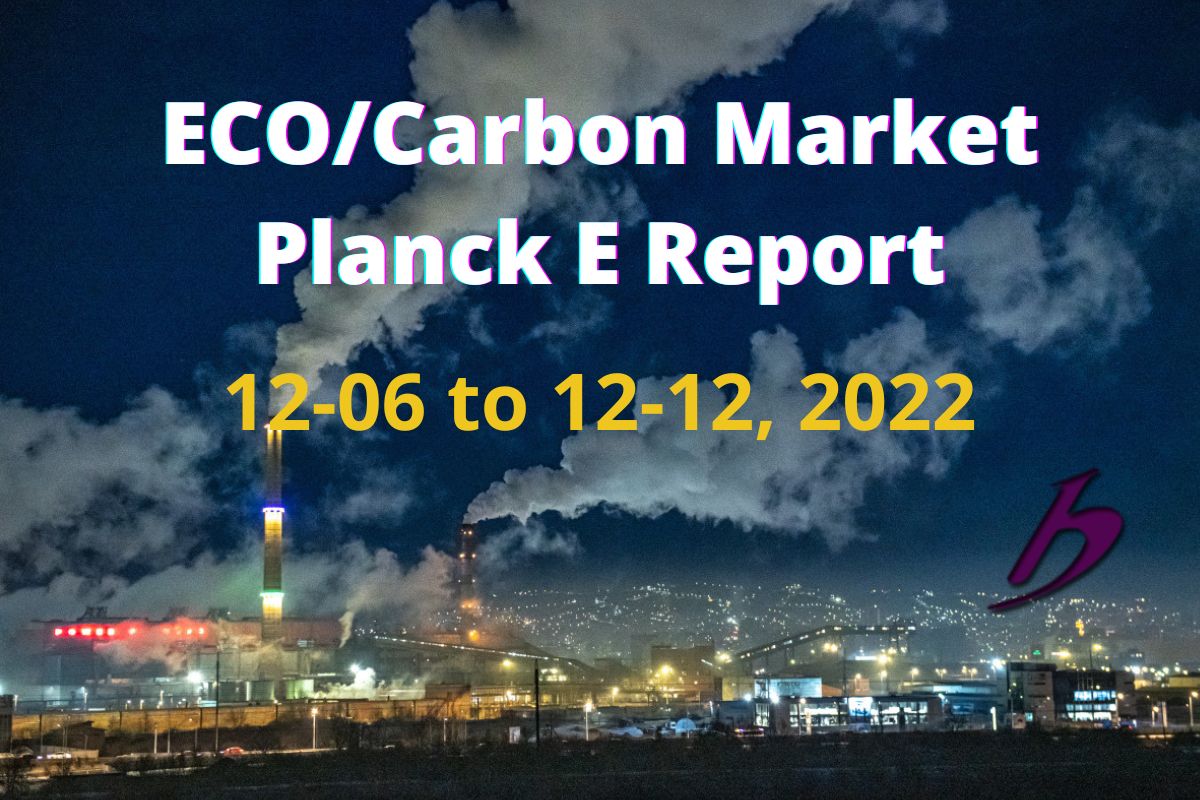 The prices of carbon credits have continued their recovery trend in the compliance and voluntary markets, since their record pricing in mid-August 2022 of €98.43.
In the week between December 06 and 12, 2022, the EUA (European Union Allowance) contracts were traded above €87.17, gaining €2.64 in a week's time, settling at €89.81. The highest volume was traded on 12/06 equalling 48,235 contracts and the lowest volume was traded on 12/12, totaling 20,582 contracts.
The prices for contracts in the CCA (California Carbon Allowance Futures), Vintage Specific 2022, gained US$ 0.00 or 0.00% since closing price on December 05, to close at US$ 29.03 on December 12.
On 12/05, the Voluntary Carbon Market for Aviation, Nature-Based, and Tech-based was quoted at US$ 2.97, US$ 4.52, and US$ 1.20, respectively. On average, they lost over 6.24% relative to their closing prices on 12/12.
The prices for the ZerO2Nature diseconomy units gained on average 1.76% relative to one week ago, closing on 12/12 at €22.36 (F-DTU), €29.80 (B-DTU), €74.52 (M-DTU), €7.46 (N-DTU), €37.07 (H-DTU), and €40.97 (C-DTU).
For a better comprehension about Carbon Credits and the Carbon Market, Planck E recommends the book: The Science Behind Carbon Credits and their Calculation by UNFCCC technical-expert consultant Patrizia Tomasi-Bensik.
Carbon Market Prices
December 12, 2022
Credit Type
Price

EUA

89.81

CCA

29.03

F-DTU

22.36

B-DTU

29.80

M-DTU

74.52

N-DTU

7.46

H-DTU

37.07

C-DTU

40.97

Aviation Offset

2.97

Nature-based Offset

4.52

Tech Industry

1.20
Most Recent Presscenter Reports
---
Planck E - Books
---
Keywords
carbon credits
carbon market
net zero
sustainability
carbon price
---
For further information about Planck E PressCenter, please contact us.